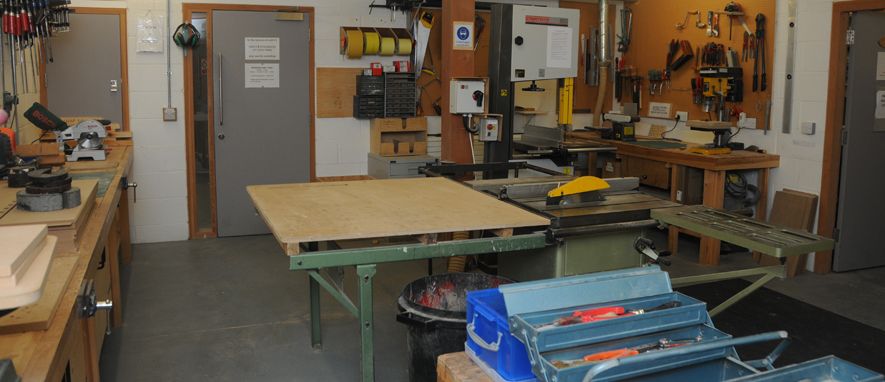 The Workshop is open in term times only between 9.00am - 1.00pm and 2.15pm - 5.00pm.
It is primarily for woodworking, but the Supervisor, Clive Tubb, will endeavour to deal with any needs for working other materials as far as is possible. He is available to discuss specific requirements and to advise on various methods of work. The Supervisor can train students in the use of machinery and hand held/ power tools in the workshop with the exception of the circular table saw.
Some hand tools are available for loan to all students and power tools can be loaned for a limited period if a deposit is paid. All tools must be signed out and returned to the Supervisor as soon as they are no longer needed.
*Please note that students are required to undergo an induction before using the workshop for the first time and are not allowed to work unsupervised in the workshop, and that not more than eight students (inc. Two students laser cutting) may work in the workshop at one time.
Adjoining the workshop:
The Model Workshop is open outside the normal workshop hours. A selection of hand tools are available for use and students may use their own power tools. HAND TOOLS MUST NOT BE REMOVED FROM THE MODEL WORKSHOP. Each student is responsible for clearing up when finished.
A varied selection of timber board off-cuts is available to students free of charge, but larger quantities of board materials can be purchased from the workshop dependent upon available stock.
The Laser Cutter Room houses two laser cutters and students will need to undergo an induction to use these machines. Students will need to book the machines via the online booking system.
* Students are required to wear safety goggles and other protective clothing at all times when working in the workshop and model workshop.
*Students must wear close-toed shoes only (no sandals, flip-flops, or high heals!)